Auris resort welcomes you this SUMMER from 2 July !
Come and recharge your batteries with your family, enjoy the fresh air and our beautiful panoramas. Fill up on activities for an unforgettable holiday: Find yourself, find us!
The resort is open this summer from 2 July to 26 August.
Entertainment and events
Amazing entertainment and events throughout your holiday… Pure pleasure and conviviality guaranteed!
Make the most of it for both young and old alike.
Finding accommodation in Auris
Has the time finally come to plan your holiday? Are you impatient to find the perfect cocoon in the heart of the amazing Auris scenery? We have just the accommodation you're looking for. Book and start dreaming!
What are you up to this winter ?
A host of activities awaits you in the wonderful mountain air of Auris-en-Oisans! Are you coming?
Auris and its hamlets
The resort
Magnificent scenery
Auris-en-Oisans is a string of small hamlets along the road that winds its way up to the resort at an altitude of 1600 m.

You go through the Infernet gorges to get to the Romanche upper valley, before going further up into the Grand Rousses mountains. The resort is nestled halfway up the Montagne de l'Homme on south-east facing alpine pasture. The many hours of sun are much appreciated by our visitors.
The Aurienchons
A warm welcome from the locals
Whether in the resort or one of the hamlets, such as Les Cours, Les Châtains or Les Certs, the locals will share their identity and traditions with you, providing a quality, personalised welcome.
#OISANS
Find your most beautiful pictures of Oisans on Instagram (#oisans)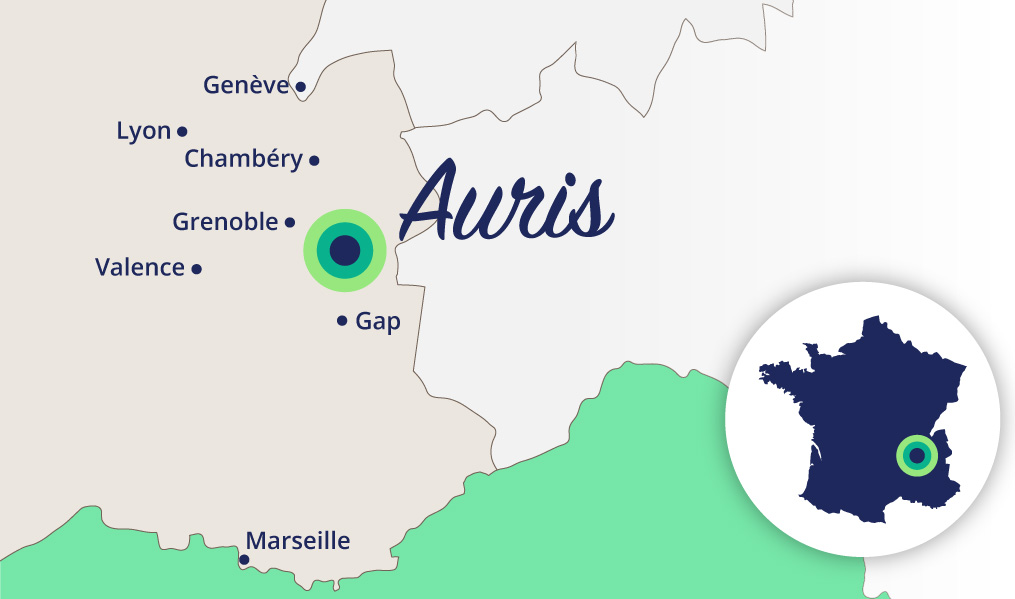 Oisans
The high mountain right at your fingertips.
Grenoble 1h
Lyon 2h
Valence 1h45
Paris 6h
Marseille 4h
Genève 2h30
Lyon 2h30
Valence 2h15
Paris 4h
Marseille 4h30
Genève 3h30
Paris 4h
Londres 4h30
Amsterdam 4h40
Bruxelles 4h20
Barcelone 4h
Berlin 5h
Dublin 5h15
Rome 4h30