Health pass and ski lifts for winter 2022
Are you ready to get back on the slopes for that wonderful feeling of freedom once again?
The fresh powder snow is waiting for you, to kick off a season that is already shaping up to be a memorable one! You'll soon be able to experience the joys of the slopes, the delicious food of the mountains and the great feeling of a day in the fresh mountain air.
The excitement of getting back on the skis has already taken over Oisans, and everyone is eagerly awaiting your arrival. For the past few months, everything has been done so that the necessary restrictions related to the current health pandemic don't ruin your holiday. Here is the latest information you need to know.
---
Ski lifts and health & safety protocol
To make sure everyone can enjoy the activities and entertainment on offer at the resorts of Oisans, while at the same time ensuring everyone's protection, here is what you need to pack (or have available on your phone) before coming.
Face coverings are now just as important as your helmet!
Make sure you bring enough face masks which are compulsory indoors, for leisure activities and in shops, while queuing and on the ski lifts from 11 years old (cable cars, lifts, chair lifts, etc.).
Don't worry, you can take them off as soon as you're ready to ski down the slopes, or begin any other sports activity. However, local authorities might decide to impose face masks at all times during very busy periods.
As for helmets, they are not compulsory but very important in the event of a collision, so we highly recommend you come equipped…
Health pass and health & safety protocol
In accordance with decisions made by the French government and the ski resorts, since December 4th, 2021 the health pass will become compulsory for the ski lifts if the number of cases per 100,000 people goes above 200 in Isère.
Since the 29th November 2021, the territory of Isère has exceeded 200 cases for 100,000 inhabitants, meaning that the health pass is now compulsory to be able to use the ski lifts.
To keep up-to-date with the number of cases per 100,000 inhabitants: https://www.gouvernement.fr/info-coronavirus/carte-et-donnees
Health/vaccine path
Since January 15th, all persons over 18 years and one month of age must have had their booster shot on time to keep their active vaccination certificate in the "health pass". After these deadlines, their old vaccination certificate is considered expired and is no longer valid.
The "vaccine pass" has been in effect since January 24th, 2022. It concerns all people aged 16 and over.
The possession of the "health pass" (complete vaccination cycle + 7 days OR RT-PCR test OR antigenic test of less than 24 hours OR certificate of recovery) remains mandatory from 12 years and 2 months and until 16 years.
Controls
Controls will be carried out in the departure areas of the ski lifts by the operator or any person authorized for this purpose, but also by the police.
In case of non-compliance, the user will be refused access to the ski area and his or her skipass will be invalidated by the operator until a valid health pass is presented at the point of sale.
In Auris, as on the whole national french territory, it is necessary to present your HEALTH / VACCINE PASS in restaurants, at the cinema, or to attend indoor shows.
---
So there you have it, there are no big changes to think about while you're packing your suitcases, apart from bringing face masks and hand sanitizer. All that's left to do after that is get out on the slopes and have some fun!
Keep in mind the health & safety measures and social distancing rules, that will protect you from any possible contamination, as well as from collisions with other skiers out on the slopes!
---
Testing and vaccination centres in Oisans
In auris resort
During the month of January 2022, antigenic tests carried out by a nursing office will be possible on Tuesdays and Fridays between 5:00 and 6:00 p.m. (room Salle Hors Sac) by appointment only (registration booklet in front of the tourist office).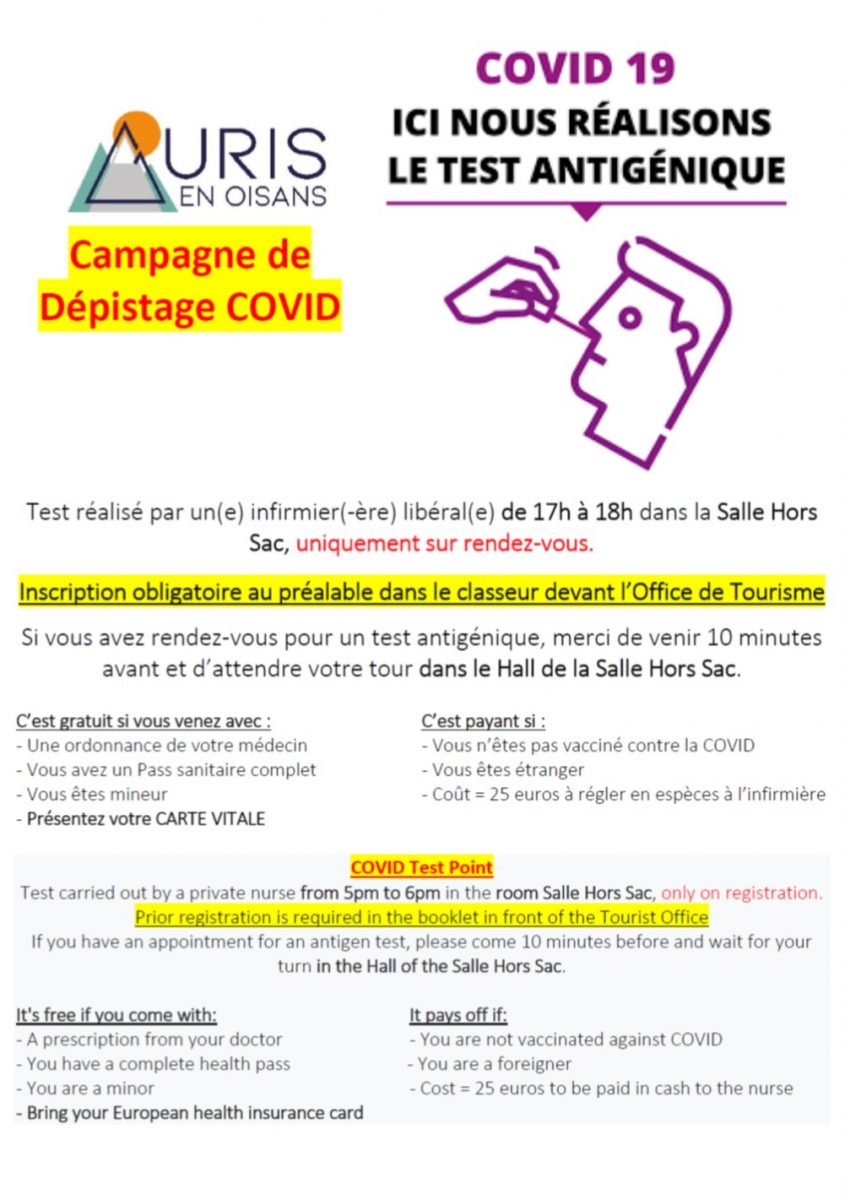 IN OISANS